Our Favourite Recipes
Silmaril Farm Mulled Cider
4 Litres  Silmaril Farms Apple Cider
  3 Cinnamon Sticks
   1/2 Orange (not peeled)
   5 Whole Allspice
5 Whloe Cloves
Mix all ingredients and simmer over medium eat for 1 hour. Strain. Serve warm.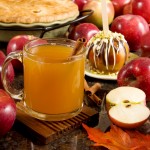 Silmaril Farm Apple Chicken Turnovers
This recipe for the short-of-time cook turns store-bought (or leftover) roast chicken, fresh apples, and frozen pie crusts into fla
ky bundles, perfect for entertaining or tucking into lunch boxes.
1 cup (250ml) cooked shredded chicken (roasted,sliced or shaved turkey from your deli can be easily subsituted)
1 cup (250ml)  Apples lightly packed grated
1/2 cup (125 ml) shredded old cheddar cheese
1/4 cup (50ml) minced green onion
1/2 tsp ( 2ml) each salt and pepper
4 frozen prepared deep dish pie crusts, thawed
1 egg yolk whisked with 1 tbsp water
In a medium bowl, combine chicken, apple, cheese, green onion, salt and pepper.

Place thawed crust on lightly floured surface and using a 3-inch round cookie cutter, cut 5 rounds from each pie crust. Using a rolling pin, re-roll scraps and cut 4 more rounds.

Preheat oven to 425 F. Place 2 tbsp of filling in the centre of each round, fold round in half and pinch slightly to secure. Using the tines of the fork, crimp around edge of turnover to prevent filling from spilling out and arrange on a parchment lined baking sheet. Repeat with remaining rounds and flling ( you will have to use two baking sheets). With a sharp paring knife, cut a small slit in the top of each turnover and brush with egg mixture.

Bake turnovers in preheated oven until golden, about 12 minutes.
Makes 24 turnovers
Smokey Silmaril Farm Apple Oka bites
A warm amuse-bouche of sweet apple wedges, smokey bacon and soft creamy Canadian Oka cheese, these bites are melt-in-your-mouth delicious and remarkably simple to prepare.
12 slices double-smoked bacon
1/4 cup (50ml) grainy mustard
2 apples, cut into 24 wedges
8 oz (250g) Oka cheese, cubed into 24 pieces
In a skillet over medium heat, cook bacon in batches until cooked through but not crispy. Transfer to a paper towel lined plate and let cool.
Preheat oven to 375 F. Cut each strip of bacon in half to make 24 small strips. Spread each strip with 1/2 tsp (2ml) of mustard and wrap around an apple wedge and piece of cheese. Secure with a toothpick. Repeat with remaining ingredients.
Arrange bites on a parchment lined baking sheet. Bake in preheated oven just until bacon start to bubble and cheese begins to melt, about 3-5 minutes. Do not overcook. Serve immediatly.
Makes 24 pieces.
Pork Chops with Silmaril Farm Apples and Rosemary
Apple cider, rosemary and Dijon mustard flavour the glaze for this quick skillet dish.
4 tsp (20ml) vegetable oil
8 boneless, fast-fry pork loin chops
2 medium onions, halved and sliced
2 cloves garlic, minced
2 apples
1 tbsp (15ml)  chopped fresh rosemary
1 cup (250ml) apple cider
1 tbsp( 15ml) cornstarch
3 tbsp ( 45ml) Dijon mustard
In a large skilet over medium-high heat, heat 2 tsp of the oil. Cook pork chops for 1-1/2 minutes on each side; remove to plate.

Add remaining oil to skillet. Add onions and cook for 5 minutes or until soft. Add garlic and cook 1 minutes. Return chops to pan, add apples and rosemary; season with salt and pepper.

In a small bowl, whisk together apple cider and cornstarch until smooth; whisk in mustard. Pour cider mixture over chops.

Bring to boil, stirring occasionally; cook 3 to 5 minutes or until apples are tender and sauce is thickened.
Poached Silmaril Farm Apples with Cranberry Cider sauce
Apple halves poached in spiced apple cider with a touch of lemon and cranberry make a delicious and attractive low-fat dessert.
4 cups (1L) apple cider
2/3 cup ( 150ml) brown sugar
1/3 cup (75 ml) dried cranberries
4 whole cloves
1  6-inch cinnamon stick, broken into a few pieces
4-6 apples
shredded zests of lemon
In a large sauce pan , combine apple cider, brown sugar, cranberries, cloves and cinnamon stick. Cover and bring cider to boil over high heat, stirrin occasionally.
Peel, halve and core apples. Place apples and lemon zest in cider; reduce heat and simmer for about 5 minutes or until apples are tender. Remove apples with slotted spoon; cover and chill.
Bring cider back to boil over high heat. Boil 5 minutes or until reduced to an almost syrupy consistency; chill. To serve, place two apple halves on plate and surround with cranberry/cider sauce.
Makes 4 to 6 servings.
Silmaril Farm Apple and Spinach Salad
Apples, mushrooms, and toasted pecans on a bed of spinach are topped with a warm apple cider, maple syrup and bacon dressing.
Dressing
4 slices bacon, cut into small pieces
1 small onion, diced
1 lb (500 g) mushrooms, sliced
1/4 (50 ml) apple cider vinegar
1/4 cup (50 ml) maple syrup
salt and pepper to taste
Salad
8 cups torn spinach leaves
2 apples , thinly sliced
1/2 cup (125 ml) toasted pecans
Prepare dressing
In a large skillet over medium-high heat, cook bacon until desired crispness; remove with slotted spoon and set aside. Add onion and mushrooms to bacon drippings; cook, stirrign frequently, for 5 minutes or until onions are soft.
Stir in apple cider vinegar and maple syrup; boil 1 minute. Season with salt and pepper.
Place spinach, apple, pecans, and bacon bits in the salad bowl or orrange on indicidual salad plates. Toss salad with warm dressing or spoon over salad on plates. Serve immediatlely.
Makes 4 servings
Silmaril Farm Apple and Squash Soup
Two fall favourites, apples and squash team up in this creamy textured but light tasting soup.
1tbsp ( 15 ml) vegetable oil
2 cups ( 500 ml) chopped onion ( about 2 medium)
1 clove garlic, minced
1 tsp ( 5 ml) dried thyme
4 cups ( 1 L) chopped peeled butternut squash
3 cups ( 750 ml) chopped peeled apples
4 cups ( 1 L) chicken or vegetable stock
1/2 cups ( 125 ml) milk or cream
pinch nutmeg
salt and pepper to taste
In a large saucepan over medium heat, heat oil.

Add onions and cook about 7 minutes or until softned, stirring occasionally. Stir in garlic and thyme; cook 1 minute. Stir in squash, apples and stock.

Bring to a boil, reduce heat and simmer for about 15 minutes or until squash is tender. Puree in small batches in blender or food processor.

Return puree to saucepan and add milk, re-heat.

Season with nutmeg, salt and pepper.
Makes 12 servings.